Have an old concrete batch controller?
Keeping an old batch system working can be very expensive as old proprietary hardware become obsolete. Even more costly, are the day to day losses of using an old batching system, even when it is working. Considering the true cost of over-batching cement, inconsistent loads, running out of material, and manually re-entering tickets into your accounting software, to mention a few, yesterday was the best time to upgrade. Don't go another season with the chance of a hardware failure that may take weeks to fix.

We designed our controlCore Smart I/O embedded controller to be a drop-in replacement for PC104 form factor embedded controllers (similar to the boardset in a Rice Lake® CB-1 and other controllers), and our Rhino Automated Batching Software with PC, 23" monitor, keyboard & mouse are a replacement for proprietary touchscreens and keypads. Instead of ripping out the old system and then having to pay for new digital scales, calibration, new I/O panel and enclosure with new wiring, you can save thousands of dollars by upgrading only the "brains" and User Interface to the latest PC based concrete batcher with all its state-of-the-art features in about an hour!

If you choose to upgrade and would prefer to start completely new, we offer a new wall-mount panel with a complete plant I/O control hardware to interface with the Concrete Rhino ABS server computer. Your new or existing digital weight indicators may be mounted in this panel or removed from your old controller and wall-mounted.
Upgrade Benefits
| | | |
| --- | --- | --- |
| | Concrete Rhino ABS | Old System |
| CPU | 3.3GHz AMD Multi-core | 20MHz Intel 186 |
| Display | 23" Color (Touch Option) | 3"x5" Blk/Wht LCD |
| Input Devices | Keyboard & Mouse | 3"x5" Touchscreen |
| Database | 20 Gigabytes or more | 512 Kilobytes |
| Automatic Offsite Database Backup | | |
| Faster, More Accurate Batching | | |
| Graphical Batch Display | | |
| Network/Internet | | |
| Jobs/Orders | | |
| Graphical Load Stack | | |
| Dynamic Truck Tracking | | |
| Accounting Integration | | |
| Weather Radar | | |
| Driving Directions | | |
| Remote Support | | |
| Inventory eMails | | |
| Remote Administration | | |
| Integrated Cameras | | |
| Customers/Contacts | | |
| Many, Many More! | | |
Upgrading Your Old Concrete Batcher to a Rhino ABS is Simple!
The three industry standard 50-pin relay rack connectors, the two digital weight connectors, analog inputs and power are simply removed from the old boardset and connected to the new controlCore boardset. The new boardset mounts using the existing holes and standoffs.

The touchscreen and keypad overlay are disconnected but left in place unused. If counter space is limited, the new keyboard and monitor may be mounted on the old sloped enclosure.

A USB cable is run from the new controlCore boardset, out of the enclosure and over the the Server PC tower (either on the desktop or shelf).

Ticket printers are connected directly to the Server PC, but report printers can be anywhere on the LAN.

We have utilities to import your mix designs from a Rice Lake® CB-1 .400 export file, CSV file, or SQL export file.

* Rice Lake is a registered trademark of Rice Lake Weighing Systems.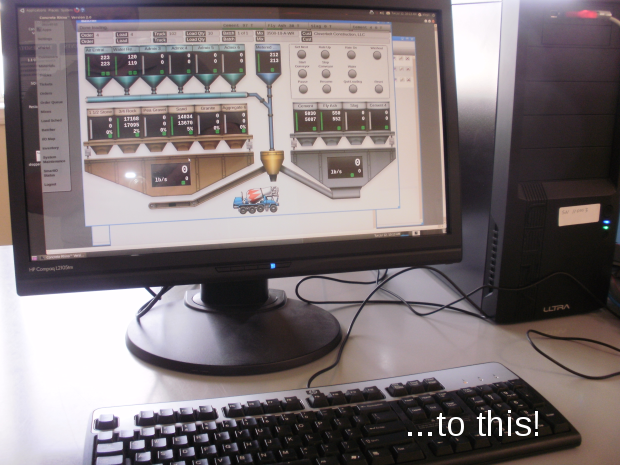 Optional wall-mounted I/O panel when all new hardware is desired